Apa Itu Demonstrative Pronoun?
GatraDewata.Com – Sesuai dengan penyebutannya bahwa 'demonstrative pronoun' merupakan kata ganti yang digunakan untuk menunjukkan, mengindikasikan ataupun mepresentasikan – baik benda yang dekat maupun jauh dan sifatnya spesifik. Kenapa dibilang spesifik, karena pada umumnya jarang sekali benda yang kita maksud menyendiri. Pastinya ada benda lain diluar yang menyertainya.
Nah, pada penggunaannya sehari hari, demonstrative pronoun ini biasa juga digunakan untuk menunjukkan benda dalam bentuk tunggal maupun jamak.
Hanya ada dua penyebutannya yaitu: this dan that, dimana jika ia hadir dalam bentuk jamak maka this akan berubah menjadi these dan that menjadi those.
Berikut contoh dasar yang bisa anda gunakan sebagai acuan:
This is my shoes > ini sepatu saya; anda sedang menunjukkan sepatu yang ada di dekat anda.
That is Tamoo's bag > itu tasnya Tamoo; anda sedang menunjukkan sebuah tas milik tuan Tamoo yang jauh dari diri anda.
These chairs are all broken > kursi – kursi ini semuanya patah; anda sedang menunjukkan bahwa kursi > kursi dekat anda semuanya patah.
Those white chairs are in good condition > kursi – kursi putih itu dalam kondisi bagus; anda sedang menunjukkan bahwa kursi – kursi berwarna putih yang jauh dari ini dalam kondisi ang bagus.
"Sekali lagi, this/these untuk dekat dan that/those untuk jauh. Namun pertanyaannya, seberapa dekat atau jauhkah benda tersebut bisa dibilang dekat/jauh?"
Jadi gini, semua benda yang bisa anda gapai dengan tangan anda bisa dikategorikan sebagai dekat dan benda tersebut layak mendapat gelar this/these. Dengan kata lain, semua benda yang ada di luar jangkauan anda maka benda tersebut layak dimasukkan pada zona jauh, dan berhak dengan gelar that/those.
Sesederhana itu, bro & sist.
Mau contoh lagi?
Look at this picture!
Please remove those glasses from my table and keep it in the store room!
Which of those bikes do you like best?
Are these chocolate for free?
Jangan lupa, these/those merupakan kata ganti bentuk jamak (plural) jadi musti diikuti oleh kata benda dalam bentuk jamak pula. Itulah kenapa kata 'those' diikuti oleh 'bikes' – bukan 'bike.' <swn>
Ilustrasi oleh www.toondoo.com
Deep Roots Dive and Yoga Resort received Best Choice in Sustainable Resort Award 2023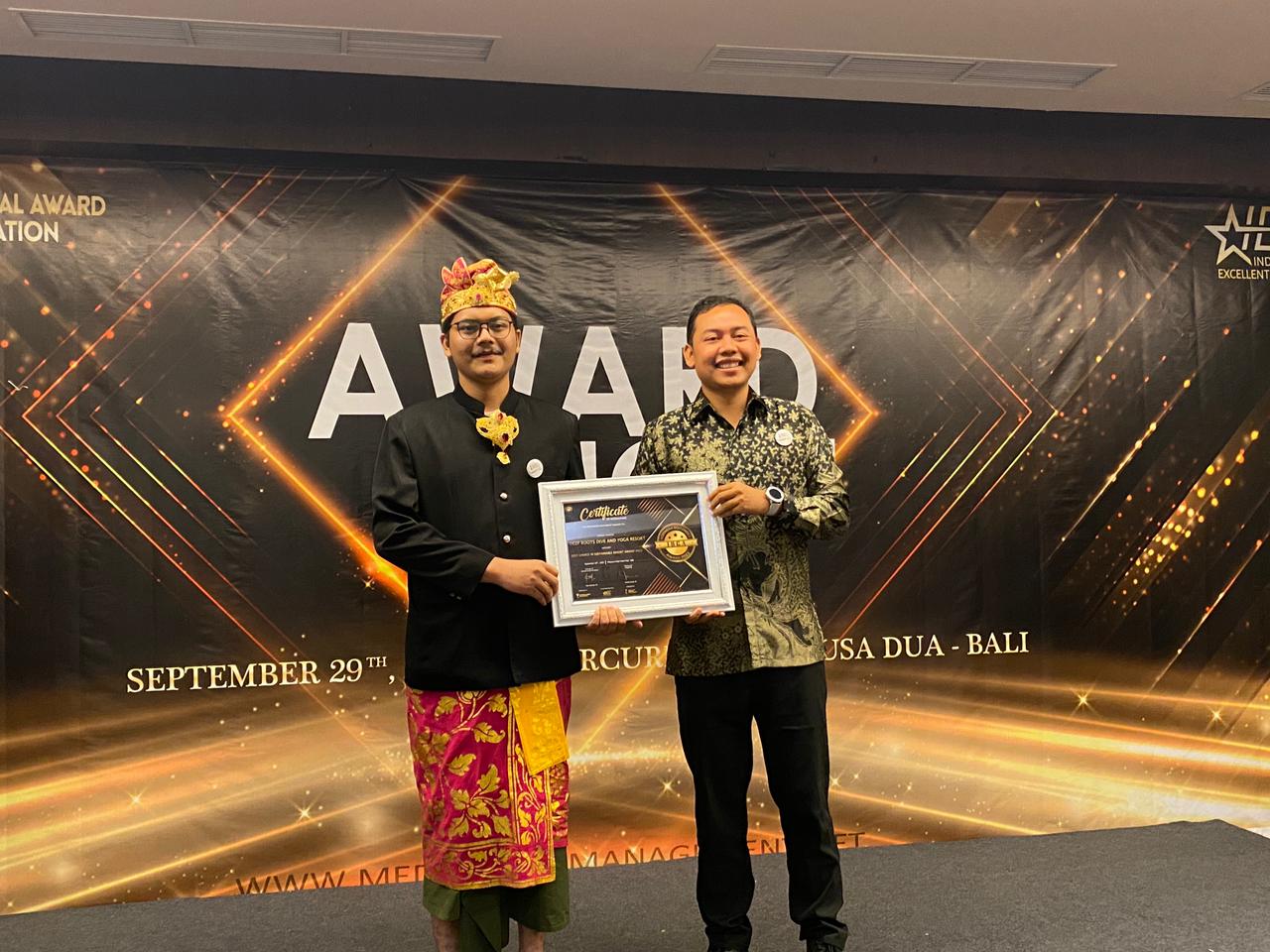 BADUNG – Mediatama Award management again conducted Award night as appreciation of industries which give contribution of economic development while keeping nature to generate their business. This award was held in Mercure Nusa Dua on 29 September 2023 attended by several participant.
Fisson Sila Hari, CHA, S.Pd, M.Pd as General Manager of Deep Roots Dive and Yoga Resort said that he is grateful that Deep Roots Dive and Yoga Resort receives this prestigious award.
He further said that Deep Roots Dive and Yoga Resort has implemented the use of solar panel to back up electricity at resort, preserving water by maximizing Waste Water Treatment Plan and initiate compos making from garden waste which recycle to be fertilizer. Not only that, in term of bath room amenities, wooden toothbrush and comb have been implemented to reduce the use of single use plastic. Further, refill mineral bottle also implemented in all cottages.
About Deep Roots Dive and Yoga Resort:
Deep Roots Dive and Yoga Resort was created with a deep love and respect for nature and the surrounding community.
Our barefoot luxury resort, located just 15 minutes from both of Nusa Penida's main harbors, is a place where you can come to play, be wild, and explore. Intimate and exclusive, it is also a place to be nurtured, find peace, and rejuvenate.
Simply take off your shoes, relax, unwind, and enjoy a refreshing cocktail as the sun sets amidst the majestic Mount Agung.
The beautiful and exotic Nusa Penida is only 25 kilometers from Bali and 40 minutes by boat from Sanur. This spectacular island has beautiful beaches and an abundance of stunning natural landmarks, as well as some of the best diving spots in the world! Each of our ten cottages at Deep Roots is tucked away in tropical foliage, making for an intimate retreat in nature.
The view of Mount Agung from the mountain view cottages is truly breathtaking! The cottages are designed by Indonesian architects using passive cooling techniques, high-quality and durable materials, and influences from Balinese architecture.
We've thought of everything to make you feel at home, from a Nespresso machine and eco-friendly amenities to yoga mats and deluxe Sensatia bath products. Our island crew will attend to your every need so that you can enjoy your resort living on Nusa Penida.
Other Activities:
Diving : Explore the underwater wonderland of Nusa Penida, home to the hawksbill turtle, manta ray, and molas with our excellent SSI instructors and dive staff at Deep Roots Nusa Penida Resort's Dive Centre.
Get away from it all and relax by letting us organize your dream diving vacation. We can help you get started with scuba diving in Nusa Penida if you've never tried it before, or we can help you get set up for a scuba diving adventure if you're already an experienced diver. We have a variety of scuba diving retreats ranging from 4-Nights to 7-Nights that will help you relax, and recharge.
In addition to the obvious health benefits of physical activity and time spent in the sun, sea, and fresh air, scuba diving will help you concentrate on the here and now.
Dive deep into the ocean's magical depths for a few minutes of pure relaxation.
Yoga Retreats:
Unwind and recharge with guided yoga sessions and transformational workshops in our open air Yoga Shala, which is surrounded by enchanting gardens. Deep Roots yoga retreats are suitable for everyone, from experienced yoga practitioners to beginners. All yoga lessons are led by a skilled instructor and are appropriate for yogis of all levels. Taking part in a Yoga workshop is a great way to ignite your passion or hone in on a specific area of your practice.
Participating in a yoga workshop can be a lot of fun. You'll be surrounded by amazing people, where you can share your knowledge and experiences. You will have access to unlimited yoga classes at the Shala throughout your stay. (Tim)
Polisario Front is Accused of Military Recruitment of Children
GATRA DEWATA | ALGER | In flagrant violation of all international conventions against military recruitment of children, "Polisario Front" is shown red-handed during the visit of special envoy of the Secretary General of the United Nations, Mr. Staffan de Mistura, accompanied by a UN delegation to Tindouf camps, located on Algerian territory. This is the second visit on his first tour in the region since his appointment in last November 2021.
In the same vein, January 04, 2021, The French NGO "International Alliance for Rights and Freedoms" (AIDL) strongly condemns the recruitment of children and their exploitation in conflicts and wars.
According to the same organization, the recruitment and exploitation of children by immersing them in areas of conflict and war, is an international crime that requires international prosecution against all criminals who are involved.
Everyone knows that the Sahrawi children are forced to move to Cuba, with the aim of indoctrinating them ideologically, subjecting them to military training and exploiting them while depriving them of all contact with their families. This forced immigration is considered a serious violation of the provisions of the Protocol against the Smuggling of Migrants by Land, Sea and Air, supplementing the United Nations Convention against Transnational Organized Crime, hence the civil and criminal liability of Polisario leaders and their accomplices.
The last visit made in Tindouf camps by Staffan de Mistura and his stuff lay bare the involvement of "Polisario Front" on military recruitment of children. (PERSISMA/Red)
Yoga Iswara, Verified, Certified, Vaccinated, Bali Ready to Open Border
GATRADEWATA | KARANGASEM | Met at the Moral Declaration of the Forum Bali Bangkit with Tourism Component by inviting 32 leaders of the Association in Bali, in the event to declare their determination and bring aspirations from the bottom line with efforts to encourage and support the opening of the Bali Open Border for the month of July.
The condition of Bali which has been ravaged due to the Covid-19 pandemic which has lasted more than a year, which has made Bali instantly paralyzed and suspended in motion with Bali's economic growth contracting minus (-) 9.31% (2020).
Dr. Yoga Iswara, BBA., BBM., MM., CHA., as the Chairperson of the Indonesian Hotel General Manager Association (IHGMA) DPD Bali, said that now is a point of momentum for him in the tourism association with the Bali Bangkit Forum, "We are with 30 tourism stakeholders  who joined, we all want that in the Bali Bangkit Forum for the Bali Open Border (Bali is reopened), this declaration is not merely new but goes through a long process. We take this idea from President Jokowi's input when visiting Bali (March 2021)  , July Bali can be opened, and the Governor of Bali also knows that," explained Yoga Iswara, Wednesday (16/06/2021), at Wantilan Besakih, Karangasem Regency, Bali.
He also explained that Bali had tried to recognize, adapt and make peace with Covid-19.  "We have to be bigger than the covid itself, of course with the implementation of the CHSE we need to tighten up, but we start to strengthen the economic movement again, so that the health and economic aspects can go hand in hand," he explained.
Yoga Iswara there also explained that he and the government have been vaccinating all tourism actors in Bali (Vaccinated), and carrying out the CHSE (Cleanliness), Health (Health), Safety (Security) health protocol program.  Environment Sustainability) (Certified), and verified (Verified).  "It's time for the government to listen to our aspirations for the Bali Open Border. We hope that these aspirations can be heard in all components that have authority for the Bali New Era," he hoped by explaining that this declaration is a moral support for the government to be able to save Bali through Open Border.
Asked about the government's Work From Bali (WFB) program which will be rolled out for Bali, "We in the Bali Bangkit Forum are also making movement efforts for Bali, Work From Bali is a positive program but we do not only expect from the government side but also  from the private side who do their work in Bali," he said.
Not only that, he also advised WFB not only to work, "We hope that this program will not only work but also have activities in Bali, so the term is work and fun in Bali. This is a good stimulus and trigger to stimulate the economy in Bali as well, " he explained.
"Our friends from tourism actors, all of us have had an impact for almost 1.5 years, indeed our storms are the same but our boats are different. Today we made a declaration to equalize energy and perception to all stakeholders having a sense of crisis, sense of urgency and sense of empathy  The same is true for how we can rise up, so stay strong, let's help us show the international and domestic world how we have carried out strict procedures, vaccinations (1.4 million), so that we are confident for Bali and this makes us ready to open  Bali in July 2021," he concluded.  (Ray)